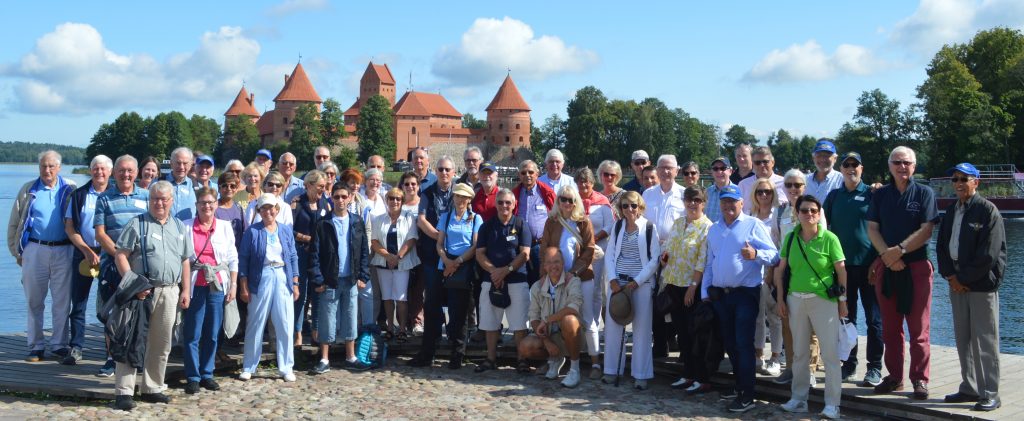 IFFR Sc Vilnius Fly-In, August 8 – 11 2019
Few things in life are as pleasant as meeting old friends and making new ones. There you have two good reasons for coming to our annual Fly-In, this year held in Vilnius, Lithuania.
We were 54 persons attending from at least 13 different countries – a true display of the Rotary Spirit.
The weather forecast was not very promising – rain predicted for the entire stay! But it turned out to be much better than expected even if it started off with showers and strong winds on Thursday. In fact, a large number of IFFR-friends arriving on their own wings got stranded in Gdansk and Visby, waiting for better weather conditions, before they could finally arrive later in the day.
So, eventually, we could all gather for a traditional Lithuanian dinner on Thursday evening when we also got treated with a presentation of the annual Lithuanian Young Pilots Glider Camp. The Camp have hosted almost 100 youngsters during the years – who have not only learned to fly a glider, but also learn a lot about other things while getting new friends.
The Scandinavian Section of IFFR have decided to contribute 1000 Euros to help support next years Glider Camp, and together with additional contributions from other IFFR Sections and individual Rotary Clubs, we are planning to submit an application for a District Grant with The Rotary Foundation. Hopefully we will be able to raise the 3-5.000 Euros which is needed to finance next year's Glider Camp.
Friday and Saturday were filled with a lot of activities! It started off with an all-day tour of the city. We went to see impressive churches, the university, the former Jewish community and it´s part of the Holocaust as well as the KGB Museum. The latter two being a more depressing part of Lithuania's history during and after WW2.
On Saturday we found ourselves on an inland lake – visiting an old fortress and trying to make sense of the art of traveling by the wind. We occupied 8-10 small sailing boats and went out to sea. Fortunately, we were not alone – there was a knowledgeable captain in charge – but many of us got the first experience of sailing that day.
Thanks to Janis Andersons, our Section Activity Leader for 2019, it was a truly well-organized Fly-In. Pleasant excursions, nice meals and the good company of Flying Rotarians made it a very memorable get-together.
Hopefully we will all meet again next year!
Roland Johnsson