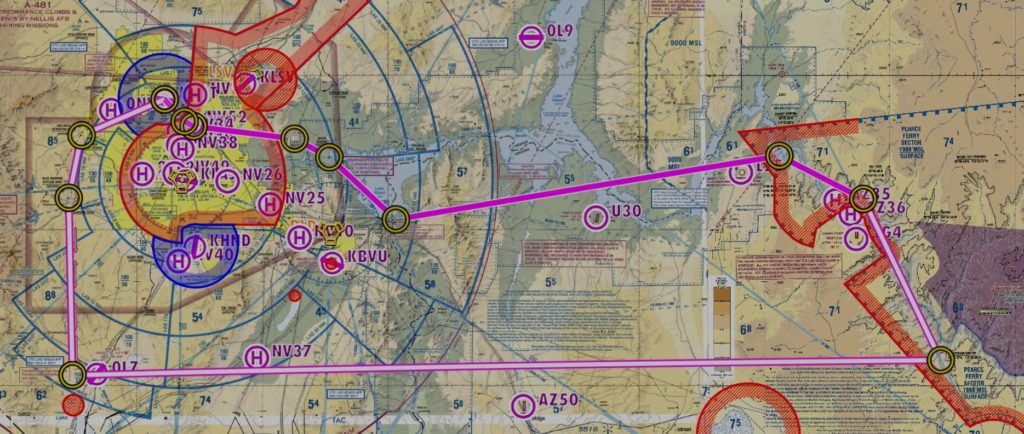 Det har blitt enklere og billigere å leie småfly i USA. Én utsjekk gir deg nå tilgang til 396 fly på 91 flyplasser i 30 stater. I sommer kombinerte jeg to lidenskaper, og til sammen ble det Wings & Wheels langs historiske Route 66.
Reisearrangøren JoyRides hadde lagt inn et par hviledager i Chicago til akklimatisering før den 4300 kilometer lange motorsykkelreisen mot vest skulle starte. Det ga meg tid til å ta OpenAirplane Universal Pilot Checkout ved Chicago Executive Flight School.
Vi brukte først halvannen time til å snakke om luftrom og flygeregler. Jeg ble også informert om OpenAirplane sine tilleggskrav, blant annet minimum én time reserve på alle flyginger og sakte taxing med god avstand til andre maskiner på bakken. Jeg hadde forberedt meg ved å laste inn amerikanske flykart på AirNav Pro, og på flyturen over brukte jeg Flight Review-appen fra Sporty's.
Den praktiske flygningen startet med avgang fra Chicago Executive Airport (KPWK), og etter innnledende øvelser med steep turns og stall, simulerte instruktøren motorkutt i 3500 fot akkurat i det vi passerte Campbell Airport (C81). Han hadde sett nok da jeg gled inn og landet. Vi gjorde en softfield take-off fra Campbell og returnerte til Chicago. Det ble 1,2 timer flygetid (som amerikanerne bruker Hobbs-meter til å måle).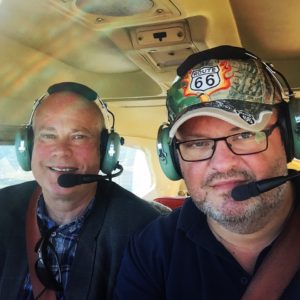 Det tok noen dager før OpenAirplane gjorde ferdig sin saksbehandling og åpnet kontoen min for booking, men det var på plass i tide til første hviledag langs Route 66. I Santa Fe booka jeg fly hos Sierra Aviation. Det var en underlig følelse da jeg presenterte meg i skranken og bare fikk levert nøkler og bok over disk med ønske om en fin flytur. Plutselig hadde det blitt enklere å leie fly enn bil.
På grunn av tetthetshøyden leaner de både i take-off og landing i Santa Fe, og jeg fikk gode praktiske råd fra en hyggelig utleier: Full power på runup, leane til best performance og så skrue til et par runder rikere. Den settingen brukes så på hele flyturen, med mindre man skal klatre veldig høyt.
1,3 timer flygetid inkluderte landing på Ohkay Owingeh Airport (E14) og oase-spotting i ørkenlandskap, før retur til Santa Fe Municipal Airport (KSAF).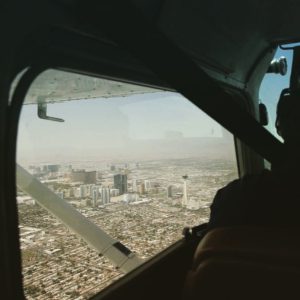 Neste pause på motorsykkelturen var Las Vegas. Jeg booka fly hos Airwork på Las Vegas North (KVGT), og satte meg grundig inn i reglene for flyging over Grand Canyon. Det ble avgang mot nord og sving mot sørvest for å ta Rocks-ruten ut av B-luftrommet. Deretter klatret vi østover opp til 11.500 fot, som er minimumshøyden for å fly nordover i korridorene over Grand Canyon. Det tok sin tid å nå høyden med MTOW.
På returen fikk vi sett Hoover Dam fra lufta før vi tok Cortez-ruten gjennom B-luftrommet rett over Las Vegas sentrum. Det ble 2,7 timer i loggboka.
Siste stopp i denne omgang var Los Angeles. Jeg booka fly hos Summit Aviation i Long Beach (KLGB) og tok turen sørover til eksotiske Santa Catalina Island (KAVX), der flyplassen hviler på to fjelltopper. Utleieren hadde i utgangspunktet krav om egen utsjekk på denne plassen, men erfaring fra norske småflyplasser ga grunnlag for unntak.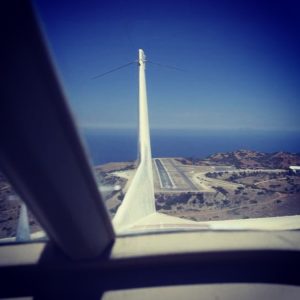 Jeg tok et par landingsrunder på 25R i Long Beach først, slik at jeg kjente flyet godt før landing på en høy og smal stripe med fare for windshear på finale. Her ble det 1,8 timer i boka.
Totalt ble det tid til sju timer flygning på motorsykkelturen fra Chicago til Los Angeles langs historiske Route 66. Ved å bruke OpenAirplane ble timeprisen noe høyere, men jeg sparte mye på å unngå tre lokale utsjekker.
PS! Det er enkelt å skaffe seg amerikansk flysertifikat basert på dine europeiske papirer. Send inn nødvendige opplysninger til FAA innen tre måneder før du skal reise, og avtal innlevering av søknad og utstedelse av midlertidig sertifikat på et FSDO-kontor. Deretter trenger du bare en flight review, noe du kombinerer med en OpenAirplane-utsjekk.
Arne H. Krumsvik