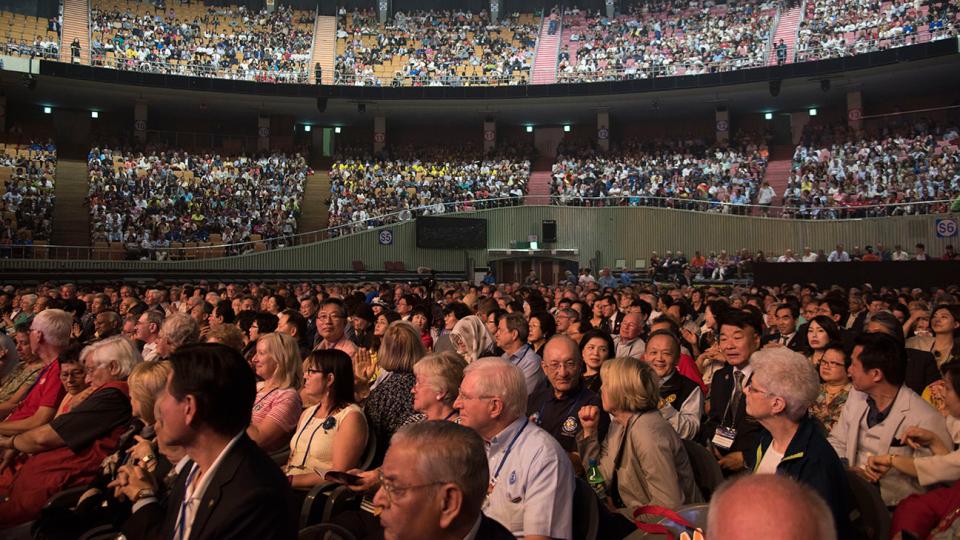 This year Convention in Seoul, Korea was very special. The number of attendees was high, very high indeed – the first day. Apparently the second day (Monday) was a working day, so lots of locals had gone back to do their job, leaving some more space to us.
House of friendship was larger than ever, with lots of shopping possibilities. The fellowship sections were smaller than usual and were situated close to the stage where frequent performances made it hard to make conversation at the stands.
Our stand was as usual a meeting point for all. New members from many countries were enrolled, and both old and new enjoyed fellowship during the 4 days of convention. The dinner took place at the Hotel Lotte, which was great and the conversation fluent as always. The IFFR part was professionally arranged by George Chaffey and Peter More.
The AGM was initiated in accordance with our bylaws and Sam Bishop gave a short report from the Safety committee. Further dealings were recessed until the meeting in Berlin. As there were no further points on the agenda the meeting turned into a presentation of what planes people were flying. And everything goes from hot air balloons to skydivers, fast and slow planes. George found a new soul mate for his low and slow squadron in Ross McConnell, Australia who flies hot air balloons.
After the convention a number of us joined the DJ Sun – post convention Korea tour. 3 buses with around 100+ Rotarians, of which were 12+ IFFR members, toured Seoul, and the country side going south to Pusan.
We were treated to a packed program of visits to impressive war memorials, lots of monasteries and temples. Korean and fusion dining as well as afternoon tea at the late WP Lee's house in the countryside.
Yet another great tour under the great Rotary umbrella.
Svend Andersen